The Galloping Hat Rack: Happy Super Derby Day! →
startinggate: *sneaks away from coursework* OH HEY! Things are starting to crawl back to normalcy. However, the new normal involves a lot more paper writing than I originally anticipated (even in my easy class where all we basically do is watch movies) and don't even get me started on the new bane of my…
3 tags
whatshouldequestrianscallme: Your barn: Your house/room:
1 tag
2 tags
4 tags
Watch
Maybe Romney could buy American and go find a nice OTTB for that dressage stable, eh ;)
6 tags
1 tag
3 tags
5 tags
3 tags
1 tag
Retired Racehorse Blog | All Thoroughbreds, All... →
We live in a strange world. It's a world where there are tens of thousands of racehorses who want homes every year, but hardly anyone seems to know how to get them. It's a world where trainers and owners are absolutely desperate to get rid of perfectly nice horses, but don't seem to know how to find homes for them. So, where'd you get your Thoroughbred?
4 tags
5 tags
7 tags
Watch
afleetalexandra: RLB's first steps! Look at him go! Courtesy of Stonestreet Farm Such an attentive mama
5 tags
2 tags
2 tags
3 tags
3 tags
4 tags
3 tags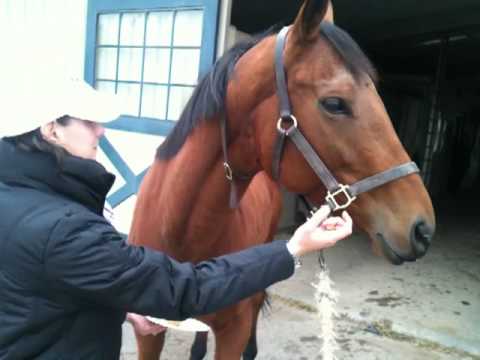 2 tags
3 tags
1 tag
3 tags
"Somehow, we have to get back to the horses we have in this country. There are..."
– George Morris (via ilovemythoroughbreds)
3 tags
Show Jumping's Wake Up Call: Get Thoroughbreds...
ilovemythoroughbreds: I found this great article which really hits close to home for me. Once again, if you aren't aware I quit my show jumping career of nearly a decade because I refused to give up my Thoroughbreds.  http://www.retiredracehorseblog.com/2011/12/22/show-jumpings-wake-up-call/ I'm glad you like it! Stay close to Retired Racehorse Blog… we are going to get...
Reblog if you're a horse blog or horse related...
weredefyinggravity: I want to follow more horse blogs :)
1 tag
2 tags
3 tags
6 tags
6 tags
"Many people have sighed for the 'good old days' and regretted the 'passing of..."
– C.W. Anderson (via spoilofwar)
4 tags
7 tags
The Yearlings →
I adore yearlings. When I was younger and just getting started in horse breeding, I despised yearlings. What's to like, after all? Yearlings are pushy, snotty, adolescent thugs who like to shove people around, who bite and kick without provocation, who are big enough to smash you like a bug but really "just want to play with you." When I started riding racehorses…
15 tags
7 tags
15 tags
3 tags
1 tag
4 tags
6 tags
11 tags
4 tags
4 tags
Spend the Day with ReRun NJ!!! | rerunhorse →
from ReRun NJ's blog: Spend the Day with ReRun NJ ! Sept. 18th Demonstration Day! ReRun NJ is hosting our very first "Demonstration Day with ReRun NJ " on Sunday,September 18, 2011 at NearAway Farm in Millstone, NJ!   Friends, Trainers, Potential Adopters, Volunteers, this day is for YOU!!!